The Infaucets faucets manufacturing facility is equipped with top-of-the-line machinery managed by highly-skilled technicians. This enables us to produce quality faucets with great efficiency and at lower costs.
 We are located in a growing region of Taizhou, China, and manufacture more than 300K faucets per month.
At InFaucets, high-tech machines and precise hand manufacturing are perfectly combined to produce cost-effective bathroom and kitchen faucets.
Skills, knowledge, and the wealth of human experience.
We create everything here,
We manufacture everything here,
We solve everything here.
Faucets Manufacturing - Custom Service
InFaucets is a leading Faucet Manufacturer in China. 
We will provide you with a one-stop faucet customization service.
InFaucets will provide you with a one-stop faucet customization service.
We are committed to providing you with the best custom faucets for your needs and a seamless service experience.
1-by-1 online meeting between you and the designers.
The tapware design may be finished in 7 days.
3D samples of the tapware will be proofed and sent to you for confirmation.
We offer faucet spare parts design, which also supports online meetings with designers.
We have professional art designers for color boxes, cotton bags, and instructions.
Your ideas can be conveyed to them directly by online meeting, and the design will be completed in 2 days.
Faucet Manufacturing Process
Faucets Manufacturing Process Add a header to begin generating the table of contents When you think about bathroom fixtures and vessel sink accessories, your mind
Read More »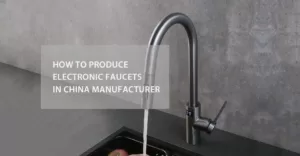 Faucet Manufacturing Process
How Chinese Manufacturers Produce Electronic Faucets? A faucet is a device used to control the flow and direction of water and can be found everywhere
Read More »
THE BEST FAUCET MANUFACTURING-BOOST YOUR BUSINESS

Certificates
Step by Step Make Faucets
The manufacturing of faucets comprises a number of stages. The manner in which these steps are performed may be adjusted depending on the each faucets product.