List of 7 Bathroom Factories in China
Although the faucet looks inconspicuous, it is essential for every household. It can be seen how big the role of the faucet is, so when we choose the faucet, we must choose carefully, and it is best to master certain purchasing knowledge. Below we will popularize the knowledge of faucets from the brand and how to buy them.
Add a header to begin generating the table of contents
One of the top 7 Chinese bathroom faucet manufacturers
Persevere in the heart, focus on ambition
Since its inception, it has consistently invested in research and development with no distractions and insisted on bringing sanitary ware back to the basic needs of life with quality as its belief. From product development and production to user experience, Hengjie is committed to using excellent technical processes and core technology patents, world-leading production standards, and empathy to continuously improve consumers' quality of life through products and services. 
Advocating environmental protection, taking the responsibility of leading the industry and promoting the society, starting from the details, saving resources, and protecting the environment.
Hengjie adheres to the brand spirit of "Persistence in the Heart, Focus on Quality", shoulders the brand mission of "focusing on quality, continuous innovation, advocating environmental protection, and improving the quality of life of consumers through products and services", as a representative of domestic brands, Consistently do a good job in bathroom products and services.
One of the top 7 Chinese bathroom faucet manufacturers
With the concept of "creativity, taste, and life", to become "the world's most outstanding sanitary ware brand"
Huida bathroom fittings manufacturer has more than 1,800 sales outlets across the country. It is one of the sanitary ware brands that Chinese consumers are more familiar with, and it is an enterprise with relatively high brand value in China's ceramic sanitary ware industry over the years. 
All over the world, Huida's products are widely used by consumers in more than 90 countries and regions. Continue to create environmentally friendly and fashionable products with excellent functions and reliability, bringing high-quality life enjoyment to the world. We always believe that perseverance and doing one thing well are the most important qualities.
One of the top 7 Chinese bathroom sanitary ware manufacturers
SSWW bathroom fittings manufacturer was founded in 1994 and has been focusing on sanitary ware for many years. It has become a famous production, research and development, and marketing base for ceramics and sanitary ware in China. In the world, it has two production bases for leisure bathroom and sanitary ceramics, production workshops for six categories of products, and an excellent global R&D, design, and testing center covering an area of nearly 200,000 square meters.
The annual output of ceramic bathrooms is about 5 million pieces. The products cover More than ten varieties of massage tubs, steam rooms, shower rooms, wash basins, toilets, bathroom cabinets, hardware faucets, etc., and economical sanitary ware products, leading the world in scale.
One of the top 7 Chinese bathroom faucet manufacturers in china bathroom fittings manufactured
"ARROW" Wrigley Sanitary Ware is affiliated with Lehua Ceramic Sanitary Ware Co., Ltd., Shunde District, Foshan City, Guangdong Province. It is a comprehensive sanitary ware brand with strength and influence in China. The company is headquartered in Foshan, Guangdong, the world-famous ceramic-producing area. It is a relatively large-scale construction and sanitary ceramics manufacturing and sales enterprise in China.
It mainly produces ARROW Wrigley ceramic sanitary ware, acrylic bathtub, surfing cylinder, shower room, bathroom hardware, steam room, solid wood bathroom cabinets, PVC bathroom cabinets, bathroom vanities, corner bathroom cabinet, all-copper chrome-plated faucets, stainless steel basins, ceramic toilets, corner toilet, shower enclosures, wall mounted toilet, shower room faucet accessories and hardware pendants, and other bathroom accessories, as well as porcelain decorative glazed tiles, polished tiles, ceramic tiles, glazed interior wall tiles, cabinets, and other products.
Since its establishment in 1994, the company has always adhered to the quality policy of "scientific design, meticulous work, continuous improvement, and customer satisfaction", strictly implemented international quality and environmental management system standards, and used relatively advanced management systems in the industry to create new products for consumers. 
Comfortable, healthy, and environmentally friendly bathroom products. Become an iconic brand in China's ceramic sanitary ware industry.
One of the top 7 Chinese bathroom faucet manufacturers
Begins with appearance, loyal to strength
Founded in 1996, in was Chinese sanitary ware industry, FAUCETU has a long history and has always insisted on producing the best quality products, and the best bathroom sanitary fittings, and its sales in the market have always been in a good position. 
It mainly produces and sells various types of faucets, showers, bathroom faucets, angle valves, hardware accessories, and other kitchen and bathroom products. The products have many styles and varieties, and the product update speed is fast, ensuring the quality, and bringing consumers an affordable shopping experience. As a well-known brand in the industry, FAUCETU has won the trust and support of consumers with its high-quality products, affordable prices, and perfect service system.
FAUCETU is a Zhejiang brand, a Chinese famous brand, and one of the largest production bathroom base enterprises in China. There is no doubt that the strength of the company is strong. Brand products are sold to international and domestic markets in volume. We provide complete bathroom solutions. We will give you comfortable and hygienic life.
Since its inception, FAUCETU has insisted on returning the bathroom to its essence. Make the design more user-friendly, do not do superficial work, and have a real life with texture.
One of the top 7 Chinese bathroom faucet manufacturers
Guangdong Huayi Sanitary Ware Industrial Co., Ltd. was founded in 1991 and is located in Shuikou Town, Kaiping City, Guangdong Province, a well-known "China plumbing and sanitary ware industry base". The company covers an area of 250,000 square meters, with a construction area of 200,000 square meters.
After more than 20 years of precipitation and development, Huayi Sanitary Ware has developed into a large-scale group enterprise, which is a group enterprise integrating R&D design, mold manufacturing, finished product production, and marketing. Specializing in the production of bathroom hardware, stainless steel sink, bathroom furniture, ceramic sanitary ware, and other series of kitchen and bathroom products, it is one of the relatively large-scale and professional integrated bathroom manufacturers in China.
The artwork in the faucet is not only Fan – but also healthy. In addition to the visual experience of the appearance, it is also committed to creating a quality experience of water health. Beautiful shape and is easy to use. Let your faucet listen to you, enjoy the kitchen happily, and make your kitchen more worry-free.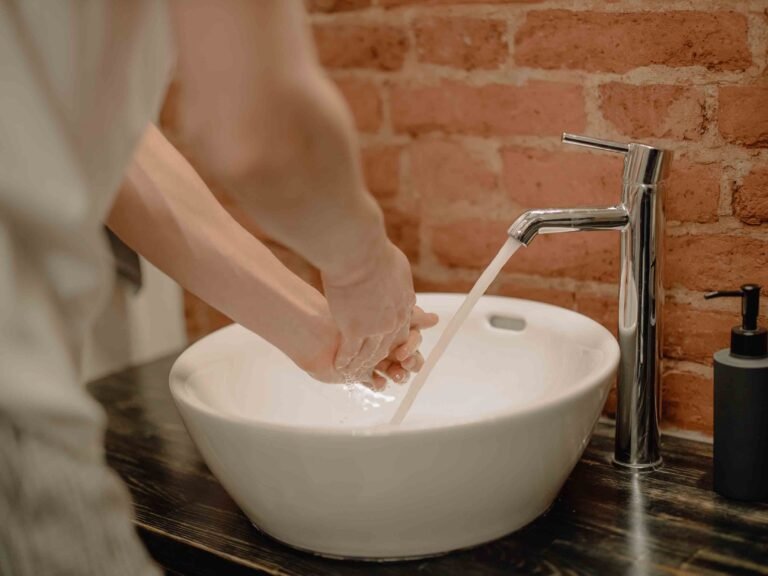 One of the top 7 Chinese bathroom sanitary ware manufacturer
Family health guardian, innovative design. Do what you think
Founded in 1990, Dongpeng Sanitary Ware Co., Ltd. is located in Shuikou Town, Kaiping City, Foshan Dongpeng sanitary ware a famous hometown of overseas Chinese and faucet production base in China. It is a high-end faucet manufacturer integrating design, research and development, production, sales, and service. More than 200 sales outlets have been established all over the country, and its brands "Dongpeng" and "DOPEN" have been sold well all over the country, and exported to more than 60 countries and regions such as Europe, America, Southeast Asia, Oceania, etc., and are well received at home and abroad. The favor and trust of many consumers.
The official website of Dongpeng Complete Bathroom has five categories: ceramics, smart, bathroom furniture, faucet hardware, and leisure sanitary ware. It provides users with smart toilets, advanced heated toilet seats, squatting toilets, water tanks, ceramic basins, basin faucets, shower room faucets, bathtub faucets, shower rooms, bathtubs, sinks, bathroom accessories, bathroom products, and metal faucets, and bathroom fixtures and services such as kitchen faucets, mop pools, etc.
The faucet is thickened with stainless steel, anti-rust and explosion-proof, wear-resistant, and high-temperature resistant.
The quality of the bathroom faucet will also directly affect its future use. When choosing a bathroom faucet, in addition to choosing the style according to the style of the house and your preferences, you must recognize the characteristics of the material, so that you can find the bathroom faucet that suits you. At the same time, environmental protection must meet the E1 level standard.
The design style determines a certain visual effect. The design style of the bathroom should be consistent with the design style of the family, especially the style of the parts connected with the dining room, living room, etc.
The Choice of a Bathroom Faucet is Very Particular.
This is the heart of the faucet. Now the hot and cold water faucets all use ceramic valve cores, but the valve cores are invisible when purchased, so there is plastic, iron, etc. mixed in the market. Even the ceramic ones are good and bad. Therefore, when choosing, you must understand clearly and recognize the big brands. This is directly related to the service life of the faucet.
Good faucet with high-quality materials. The home improvement faucet is the part in direct contact with the water source, which directly affects water sanitation. Good material, anti-corrosion, non-toxic, sterilization effect. It has high strength, hardness, and chemical resistance.
The appearance of the faucet is generally ground, electroplated, and polished many times. When selecting, the qualified standard is light, with no bubbles, no defects, and no scratches. Ordinary faucets have only a coating of more than 10 microns, the purpose is to prevent rust, be beautiful, and guarantee the service life.
When selecting, press the surface of the faucet with your finger, and the fingerprint will disperse quickly, indicating that the coating is good; the more the fingerprint is printed, the worse it is. Pay attention to the coating of the corners and rounded corners, these details can be very good to see whether the plating process is reasonable. In terms of gloss, it is bright and textured, and no water ripples are also a standard.
What we have introduced above is the ranking of the latest seven brands of bathroom faucets in 2022. As for how to choose a bathroom faucet, I believe that after reading our introduction, you should know how to choose it. Hope the above introduction can help you.