How to Choose the Right Black Matte Square Bathroom Faucet?
There is a lot that comes into play when it comes to selecting matte black bathroom faucets than what meets the eye. It's not as easy as choosing a matte black bathroom faucet; you'll need to consider other essential factors. For one, you'll need to think about the bathroom sink, handle type, material under the matte finish, and many more.
With an array of matte black square bathroom faucets, you must consider some factors to pick the best one that easily meets your needs. This article will help you to move in the right direction and make an informed decision. Keep reading!
Add a header to begin generating the table of contents
Features to Consider Before Buying Matte Black Bathroom Sink Faucets
Yes! the square bathroom sink faucets will never go unnoticed. It has pleasing features that would make the bathroom area a sanctuary. More importantly, it's made from corrosion-resistant solid brass, allowing users to enjoy a problem-free operation. They also have virtually leak-proof ceramic cartridge valves.
What's more? The bathroom sink faucets leave room for users that wish to mount them. It also considers the number of installations users need for smooth installation. Users wanting to replace an existing bathroom faucet or make a new installation must consider the following pointers.
Material of Bathroom Sink Faucets
As stated earlier, single-handle bathroom sink faucets add practicality and modernity to your bathroom, creating a super trendy décor. So, if you're trying to install a matte black bathroom sink faucet, here are a few pointers that'll ensure longevity and problem-free performance.
Matte black bathroom sink faucets or fixtures made from solid brass or stainless steel last longer than their counterparts. Other materials, like zinc, are not durable and are prone to wear and tear. Be on the lookout for solid brass or stainless-steel housing for ceramic cartridges, as they're marks for quality.
Wall Mount Bathroom Faucet Options
Most matte black bathroom sink faucets have mounting options. You can either mount them on the wall, under the floor or beneath the sink to connect to the water line in accordance with their unique styles. The most common type out of the three is the deck-mounted bathroom faucet.
If you're trying to go for the wall-mount bathroom faucet, you'll need to place it in a low stud-free area to avoid splashing. Moreover, the area should be high enough to allow washing plus give room to access the pipes behind the walls. This can sometimes make the wall-mount bathroom faucet very expensive when it comes to replacement. However, getting the wall-mount bathroom faucet will free up space on your counter, which ensures easy cleaning. On the other hand, floor-mounted bathroom faucets are used as bathtub fillers and usually come with a free-standing bathroom sink.
If you're planning to avoid drilling during your matte black bathroom installation, it's prudent to go with the number of holes you already have to configure the new faucet. A one-hole configuration will join the spout, one or two handles, and valves in a single unit. A single-handle bathroom sink faucet is convenient for a household with younger children and also if you have only one hand free.
On the other hand, two-hole configuration has two valves for hot and cold water. A bridge above the two valves mixes the water before moving to the spout. The good thing about this is that it'll allow you to adjust the water temperature accordingly. Lastly, the three-hole configuration has individual holes for hot water, spout, and cold water. If the valves are six inches, then you'll need an eight-inch widespread bathroom faucet.
Aerator, Drain, and Spout
Bathroom faucets need to be proportional to the sink. Therefore, while looking for a matte black faucet, you'll need to consider the height and projection of the spout. The spout height ranges from the standard short curve angle to the tall arch. Spout reach, on the other hand, measures the distance from where the spout joins the bathroom faucet to the sink.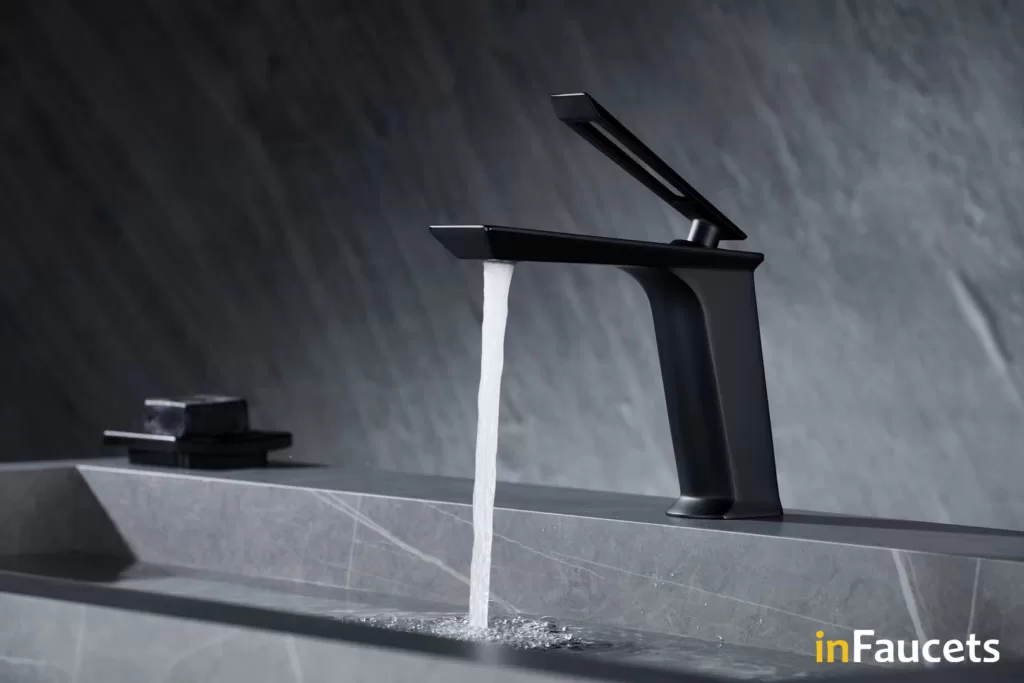 The drain should also line up with the drain. Getting a short spout with a smaller projection can limit and frustrate your washing experience. You can, however, add a basin to such a spout if you don't have enough space. Vessel sinks can work well with a bathroom faucet with a longer tall arch enabling you to reach over the rim. Popular options you can go for include; a practical swiveling spout, the decorative channel spout, and a wide waterfall spout with glass vessel sinks.
The Type of Bathroom Sink Faucet Handles
A majority of bathroom faucets have levers, knobs, or cross handles. However, other types of faucets can be operated without handles. While shopping for a bathroom faucet, ensure the one you get has enough space in front of the backsplash for turning the handle.
There are many popular finishes you can opt for, but the matte black finish never runs out of style. It adds a modern aesthetic to your bathroom area, quickly changing the faucet from utilitarian to jewel-like. The solid brass underneath needs a finish to prevent tarnishing. 
And the matte black finish is what you need to elevate your washroom to a lustrous bathroom sink.
Now that you know what features to look out for, let's highlight some of the best matte black single-handle bathroom taps and styles.
3 Matte Black Square Bathroom Faucets to Go for in 2023
Here's a list of some of the best matte black square bathroom taps that can revitalize your bathroom area.
Infaucets Matte Black Square Bathroom Faucet
It may look like the same single-handle bathroom faucet version, but it's further from that. Infaucets matte black square bathroom faucet has a timeless look that works well and eases into any modern bathroom style. 
While there are many 90-degree single-handle bathroom faucets on the market, Infaucets matte black square faucet has set the standard a notch higher.
Infaucets China uses modern manufacturers' practices to create unique faucet craftmanship. This ensures that their products will last a lifetime. Let's look at its features in detail.
Features;
The 90-degree single-handle bathroom faucet has a perfect lustrous matte black finish that'll compliment your modern design bathroom style.
Infaucets bathroom faucet complements really well with other fixtures in the bathroom area. For one, it can easily match a square or rectangular sink, which matches the shape and style of the faucet.
It has a solid brass construction, and ceramic cartridges, which make them sturdy, easy to clean, and operational for a long time. You'll not have any maintenance or repair problems since it's not prone to constant damage.
The single-handle bathroom faucet has a fresh style to back the futuristic design. Its packaging includes a pop-up drain and single-handle water supply line, among other things.
Easy installation process, as it comes with an instructional manual.
Bathfinesse Matte Black Bathroom Faucet Modern Square Bathroom Sinks Faucet
If you want a perfect bathroom faucet that would capture the eyes of anyone in this room, then this single-handle bathroom faucet is the way to go. It has excellent features that would complement any bathroom fixture. Let's take a closer look at it.
Features;
The matte black finish is to die for. It'll leave the bathroom with a modern contemporary look. With a complimentary decor design, it sure needs to be part of your bathroom fixtures.
It's made from solid brass, which means you can use the bathroom faucet for a long time without needing repairs. Besides quality and reliability, they're lead-free brass construction with a superior matte black finish.
The Bathfinesse bathroom faucet comes with a superior aerator. It allows you to save water. The aerator comes with a mesh inside that allows air into the water. This ensures you the water comes out in larger streams and is soft to touch. While the aerator can get clogged with scale and lime, this aerator is designed to remove such clogging easily, making it easy to clean.
Its packaging includes everything you need, including a pop-up drainage assembly and a standard water supply hose line.
Easy installation process.
BATHLAVISH Widespread Bathroom Faucet Matte Black
If you wish to have a different bath experience, then going for the BATHLAVISH bathroom faucet is the best way to get it. The bathroom faucet is designed to have more streams as they use waterfall spots. This makes the water flow more rhythmic. Let's look at the widespread bathroom faucet in detail.
Features;
The widespread bathroom faucet has a sort of frosted and matte black feel to it. It's stain-resistant, meaning it'll be easy to clean it. It comes with multiple-layer plating to prevent the flaking of paint and surface fading.
It's made of solid brass, ensuring quality and long-lasting operation. Its nature makes it unsusceptible to damage. Moreover, water spouts are designed to be used efficiently. Additionally, it has electroplating coloring to prevent corrosion and color loss.
Comes with complete accessories; the packaging has everything that'll make it an easy install. They include a hot and cold supply line, pop-up drains and adapter, and an instructional guide.
Widespread wall mount, three holes; the matte black bathroom faucet is three holes. The distance is between 8 to 16 inches, while the diameter is between 1-1.5 inches.
The faucet has two handles which allow you to adjust the temperatures accurately.
Two-handle temperature control; this feature allows you to control the water temperature accurately.
If you wish to elevate your bathroom area into a luxurious sanctuary, then investing in matte black square bathroom fixtures from Infaucets China is essential. The products speak for themselves, be it durability, aesthetic, functionality, you name it!
They've proven to be a worthwhile investment. Moreover, it has unique products with different designs to make your washroom stand out. Why not reach out to them today, and be on your way to living your dream.