Health Faucet Toilet Bidet Sprayer | Hand-Held Shattaf Bidet Sprayer
Toilet bidet sprayers are becoming popular in the modern bathroom these days. They're used as an alternative to toilet paper. The toilet bidet sprayer will easily clean your backside, leaving users cleaner after using the bathroom.
There are many versions of toilet bidet sprayers on the market, but the hand-held Shattaf bidet sprayer from Infaucets Manufacturing firm is the trendsetter. It'll make your trip to the Lou a more hygienic experience. Before going into details about this type of toilet bidet sprayer, let's unpack what bidet sprayers really are.
Add a header to begin generating the table of contents
What Is a Toilet Bidet Sprayer?
Also known as a bidet shower, bidet sprayers are gadgets with a nozzle that sprays water to your backside and genitals to clean them after using the bathroom. The devices come in different shapes and designs and are almost in every bathroom worldwide. It's used as an alternative to toilet paper after urinating or defecating.
The unique thing about these sprayers is that they come in handy for people with sensitive skin since they are quite gentle. Moreover, it'll improve the hygienic experience while in the bathroom. Since they're convenient and come in different designs, you can easily purchase the type that can easily elevate your bathroom area.
Toilet Paper Vs. Toilet Bidet Sprayer Kit
While they pretty much do the same job, the toilet bidet sprayer has the upper hand for its unique and hygienic value in the bathroom. It's an effective way of cleaning the backside, removing all germs and bacteria. You'll definitely enhance personal cleanliness when incorporating the bidet sprayer in your bathrooms.
Studies show that using such a sprayer will decrease the number of bacteria found in urine. It's, therefore, more hygienically clean when you use this sprayer than wiping yourself after going to the bathroom. Moreover, people who have sensitive skin will have a field day with them without getting any irritation.
In addition, if you get a high-quality toilet bidet sprayer from Infaucets Manufacturing, you'll never have to worry about needing additional wiping. Therefore, in some ways, getting a bidet sprayer allows you to reduce your shopping bill for toilet paper. Using no or less toilet paper is definitely good for the environment.
Another good thing you'll experience using a bidet sprayer is a chance to lower your risk of getting diseases like hemorrhoids. How so? Well, when you use a medium lower water pressure bidet sprayer, you can easily relieve pressure in areas around your anus, thereby reducing the risk of getting hemorrhoids.
Enough said! Let's look at some popular forms of toilet bidet sprayers.
Different Kinds of Toilet Bidet Sprayers
You'll be spoilt for choice if you're trying to leave the toilet paper era to these sprayers- as there are so many bidet sprayers on the market with different designs and shapes. Let's look at some popular types of bidet sprayers.
Freestanding Bidet Sprayer
The most common type of bidet on the market is the freestanding bidet sprayer. They're usually designed to stay in the lower area of your toilet and may look like massive low sinks. The bidet sprayers are filled with water that rises up the bowl. They also come with jets.
Another type is the hand-held bidet sprayer. It's a unique type of bidet, as the nozzle is attached to your toilet. The hand-held bidet is easily placed near your private areas such that you can easily clean your genitals and anus after using the bathroom or even in other instances like sexual intercourse or you need freshening up. The good thing about the hand-held bidet sprayer is that you can control water pressure.
Unlike the hand-held bidet, the built-in bidet is basically a toilet with a bidet sprayer kit. Once you flush on a built-in bidet toilet, it'll automatically give off some water to clean your private areas and increase personal hygiene.
These sprayers are versatile; they can either be freestanding, built-in or a hand-held bidet. The bidet sprayer is attached to a hot water supply. It may also have built-in water warmer, which warms up your water, giving off a warm spritz to clean up your private parts.
The Best Hand-Held Bidet Sprayer in 2023
Now that you know a thing or two about toilet bidet sprayers, let's delve into the best ones to go for in 2023.
Infaucets Hand Held Shattaf Bidet Sprayer
If you're thinking of adding a hand-held bidet sprayer to your bathroom area, then the Infaucets Hand Held Shattaf Bidet Sprayer is the best hand-down on the market. Its ergonomic shape and features certainly give it the number-one position in the game. You're guaranteed a multi-functional device suitable for various cleaning activities.
The Infaucets hand-held bidet sprayer is made from high-quality stainless-steel and ABS material to ensure durability. The sprayer is also brushed with a nickel finish to prevent any leaks. Overall, the seamless sprayer is leakproof for smooth operation.

It comes with a hot and cold thermostat mixer, meaning you can connect it to a hot or cold-water supply. You must consider the mixed-out water, which usually goes with your set temperature.

The stainless-steel hand-held bidet sprayer has a toilet hook sprayer holder. The holder allows you to hang the sprayer in your desired area.

Infaucets toilet bidet sprayers are 100 percent customer satisfaction. All components in the package are made with high-quality material. This allows users to have a happy and healthy lifestyle.

Various Uses; the best part about the bidet sprayer kit is that it has multiple functionalities. You can use it to clean your car since it has enough water pressure to remove dirt and debris. Other uses include; rinsing the toilet, floor cleaning, and pet bath, among others.

Comes with a sprayer set consisting of shower thermostat t valve, diverter valve, bidet head spray, sprayer hooker, as well as a hose.

Its price is quite friendly when compared to other sprayers on the market.
Stainless Steel Yosso Hand-Held Bidet Sprayer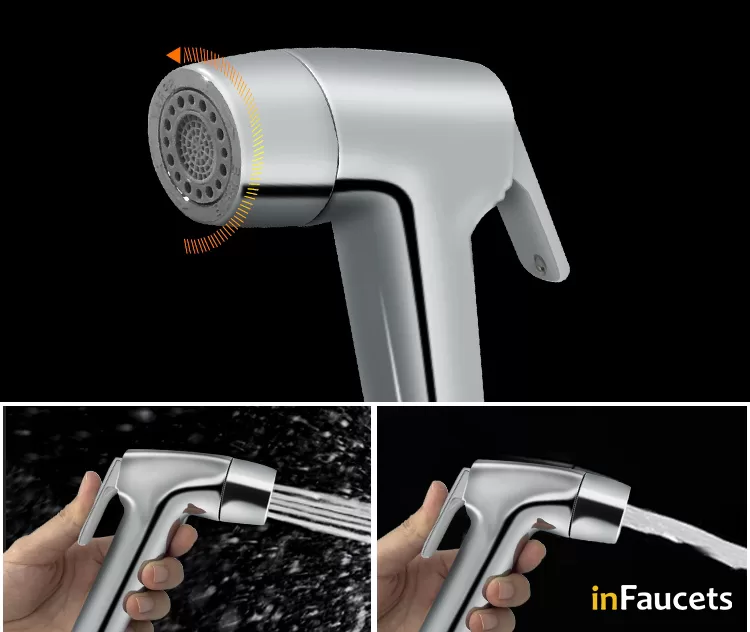 Another stainless-steel hand-held bidet sprayer to keep an eye on is the Yosso hand-held bidet sprayer. It's exquisitely designed to suit a wide application. For one, you can use it to clean your private area and incorporate it into your bathroom cleaning routine. It'll help you eliminate bowel movements and residue from diapers without a struggle. Moreover, it's reasonably sized and will come with a sprayer holder and a hose, making it an excellent product worth trying.
This hand-held bidet sprayer kit is made from stainless-steel and ABS material, which makes it sturdy and durable.

It comes in ergonomic styles and shapes, making them comfortable while holding.

Powerful water pressure jetting mode, which makes residue cleaning and bowel movement easy.

It serves various functions in your bathroom, from cleaning the floor, diaper cloth, watering flowers, and cleaning your pet, among other things.

The package includes a complete sprayer set of a hose and a sprayer holder. This makes installation super easy. Its prices are on the up-sight compared to the rest on the market, which is quite disappointing.
Fossa Firo Hand-Held Stainless Steel Bidet Sprayer Shattaf
Another type you might opt for is the Fossa Firo hand-held bidet sprayer. It's a close third to the Infaucets sprayer. Its versatility, functionality, and budget make it a customer favorite for improving personal hygiene. Let's look at its features in detail.
It comes in a sprayer set consisting of an ABS sprayer head, chrome plated for an exquisite appearance, spring hose, hook holder, and thread tape. It also comes with an instructional guide that makes installing quite easy. The chrome plate brushed on it will ensure your sprayer is durable and long-lasting.

Multi-Functional; Just like the Infaucets hand-held bidet sprayer, the Fossa Firo Shattaf bidet sprayer has multiple uses. Not only is it suitable for personal cleaning, but it can also work well in other areas like bathing your pets, muslin showers, and toilet and floor cleaning, among other activities.

It comes with sprayer modes that you can easily adjust to switch water pressure. You can easily adjust it from a smooth spray to a jet-like spray. Soft sprays can be used while cleaning pets, and jet sprays for toilet and diaper.

Easy to install. The installing process will not need expertise since they're universe sizes. This means a majority of them, if not all, are compatible with most toilets. You'll need to connect the t valve to the inlet pipe and toilet tank. Lastly, you can screw in the hose plus the spray head, and you'll be ready to go.
A health faucet hand-held bidet from Infaucets Manufacturing Firm can really spruce up your bathroom experience, from improving your bathroom experience, limiting germ spread, and enhancing personal cleanliness to bettering the environment. They are a convenient way of transforming your bathroom area. Moreover, these faucet hand-held bidet sprayers are game changers as you can use them in various activities.
If you're thinking of adding a health faucet hand-held bidet, then buying one from Infaucets Manufacturing Firm is certainly essential as it will not only help your bathroom standout but also help you meet different bathroom needs. Reach out to them today for any queries!