Why Should We use Shower Head Filter?
- Best Shower Water Filters 2023
Have you ever wondered why your skin and hair feel drier after showering? Well, your shower may be sprouting out hard water, which contains minerals and chemicals that can irritate your skin and hair health. It's essential to confirm if your shower water is hard- it includes minerals such as chlorine and magnesium.
Add a header to begin generating the table of contents
Using hard water doesn't adversely affect the body, but it's quite annoying during showers. The main purpose of showering is to feel clean; however, when you use hard water, your skin feels drier. Moreover, it takes longer for the shampoo to lathe, plus rinse off while washing your hair. However, all hope is not lost; a shower head filter can easily eliminate the excess minerals, which softens the water.
You can still go for handheld shower filters if you don't have the luxury of attaining full-scale water softening and filtering systems. Does a handheld shower filter work the same way as a filtering system? After showering with a handheld shower filter, will it leave me with moist skin and hair that is softer and shinier? In this article, we answer this and so much more.
Keep reading!
How Does a Shower Filter Work?
A shower filter is designed in various styles and sizes for your shower head. They are created so that they can fit easily into the existing showerhead. Many shower filters have layers of activated coconut shell carbon that are excellent at removing chlorine, VOCs, volatile organic compounds, plus odors in water.
However, high water temperatures can limit the carbon dust to effectively capture chlorine. It's, therefore, prudent that you incorporate other filtration systems like the kinetic degradation fluxion. This type uses copper and zinc to react and neutralize chemicals.
Once installed, it'll remove chlorine, hydrogen sulfide, mold scale, and lime in water. However, they're on the pricey side of the spectrum. You'll immediately notice a change in limescale buildup on your shower, less flaky dry skin, and your hair becomes voluminous.
Another instant relief that'll happen when you use a shower filter is solving some of the problems emanating from your water supply. You may have to replace some filter cartridges on the shower filters. However, that's a small price when you compare it with limescale buildup on your shower and dry skin. You'll need to change the filter cartridge after every six months, but this will depend on your use.
Benefits of Using a Water Softener Shower Head Filter
Studies indicate hard water can decrease your hair's strength and thickness, which makes it prone to breakage. It would be best if you kept this in mind, especially for people who already have a fine hair texture, dyed or damaged hair. Moreover, it can cause Eczema to those that have sensitive skin.
Fortunately, a shower filter is a simple way to get rid of the excess gross minerals in the water. It has a specialized filtration system that facilitates chlorine removal, plus other harmful chemicals, improving water quality. Let's look at some of the benefits of using shower filters.
Hard water makes your skin and hair dry. Most people overlook the water they're using and spend tons of money on expensive skin and hair products to help them reduce their itching skin or fade hair. You'll save money by simply installing a showerhead filter, as you will no longer need these beauty products to solve your problem. A cleaner shower water will do that for you.
One cannot say enough about how chlorine and other minerals that come through your shower water can hurt your skin and hair health. You can have traces of itchy and age spots, making you look older than you already are. Installing a shower filter allows you to neutralize these chemicals, stopping such damage and ensuring you remain to radiate with soft hair and skin.
Did you know that being exposed to chemicals during your shower can cause body fatigue, lower autoimmune function, or even depression? This makes it harder for you to fight off infections. An excellent old shower filter installed on your shower head can easily put these harsh vapors at bay. In no time, you'll notice you feel better after stepping out of your shower due to an upside strength in your autoimmune function.
Factors to Consider When Looking for the Best Shower Filter
It's important to consider some factors that will help you find the right shower filter for your existing shower-head. Moreover, you'll be able to find a shower-head filter that meets your needs. Let's look at some of them.
The Lifespan of a Shower Head Filter
Irrespective of the type of shower filter you choose for your existing showerhead, it'll always have a limited lifespan before it needs replacement. How often the shower filters need to be changed depends on the water quality and your water consumption. A majority of these shower filters need to be replaced after six months.
Be sure to countercheck that the one you opt for doesn't need replacement more often. If you make these replacements, your shower filter will stay clean, making it less effective.
Style and Type of a Shower Filter
Shower filters have various styles and types, consisting of inline filters, showerhead filters, and handheld filters.
The inline filter is an ideal choice for those who wish to keep their existing shower heads. However, if you're trying to upgrade your shower system, go for a built-in filter like a filtered shower head or filtered hand-held showers with spray settings that allow you to direct water wherever you want.
Regardless of style, the best shower filters should either possess a kinetic degradation fluxion, vitamin c filter, or activated carbon filter. At the end of the day, the type you go for should be able to meet your needs. All these types mentioned above can filter your shower water effectively and reduce impurities.
KDF shower filter uses copper and zinc in an oxidation-reduction process removing chlorine, mercury, lead, and other water-soluble metals from water. It's sometimes combined with a water filtration system like activated carbon. The KDF 55 is the most popular version of this type of shower water filter. Its filtration media is made in such a way to reduce chlorine and other contaminants.
On the other hand, an activated carbon filter uses an adsorption process to remove chlorine and other impurities from water. A vitamin C shower water filter works by reacting to chemicals and neutralizing them. It's important to note that vitamin C water filters are only great at removing chlorine.
It's important to go for a shower filter with an easy installation process. Shower head filters are easy to install compared to other shower water filters. It's, however, crucial you read the instruction of a particular shower water filter before making the final decision.
Most shower filters will require you to twist them into existing fixtures, while others need extra steps to attain a filtered shower head. The best shower filter is the one that's able to meet your goal. With that said, let's look at the best shower filters to go for in 2023.
Top Picks for the Best Shower Water Filters 2023
InFaucest- HUAHUA Turbo Shower Head
【Innovative Turbo Charged Design】:

InFaucets

shower head use a unique turbocharged design, 360° adjustable spray head, and hydro shower jet turbofan rotation increases water pressure. shower head with handheld adopts environmentally friendly and durable ABS plating process and stainless steel panel, more durable, stain resistant, and easy to clean.

【Hydro Shower Jet Head Purification Performance】: Our shower head is equipped with 3 PP cotton filters, which can effectively filter large particles such as rust, sand, and heavy metals in the water. Filtered water is healthier for the skin. because of the ultra-dense hole design, the turbofan to boots water flow speed The powerful water jet mode can help you clean up the soap bubbles and hair remaining in a few seconds. It is also an excellent choice for pet showers.
【Super Easy to Install】: Easy installation, didn't need to hire a plumber., which can be installed in a few minutes, You connect it to any G1/2 threaded shower hose it's suitable for most hoses and brackets or shower attachment arms.
Aquasana AQ-400 Deluxe Shower Filter-Best Overall
It's important to go for a shower filter with an easy installation process. Shower head filters are easy to install compared to other shower water filters. It's, however, crucial you read the instruction of a particular shower water filter before making the final decision.
Most shower filters will require you to twist them into existing fixtures, while others need extra steps to attain a filtered shower head. The best shower filter is the one that's able to meet your goal. With that said, let's look at the best shower filters to go for in 2023.
AQ-400 Deluxe Shower Filter Features
It comes with an NSF-certified filtration system
The shell is made from natural coconut that removes chlorine, iron, and lead from water
Easy installation that anyone can finish in four phases; no tools needed
Filter cartridges are long-lasting; they only need to be replaced twice a year
Brondell Vivaspring Shower Head Filter-Excellent for Wide Spray Settings
The Brondell brand has made a top-dollar shower head filter that makes anyone who uses it feel like a luxury. From phenomenal packaging that makes anyone feels like they're opening a gift box to quality products. The all-in-one filter features 15 stages of filtration and purification can only give you the best performance.
The process starts with a mesh trap where water flows through it to other filtering techniques like coconut-activated carbon, maifan stone, and germanium balls. The filter doesn't affect your existing water pressure, plus it comes with a flow rate of 2.5 gallons per minute. It's definitely a luxury filter promising pure water.
Brondell Vivaspring Features
Excellent filter for softening water
Comes with a rainfall shower technology
Rejuvenates your body with the activated carbon plus calcium sulfide purification processes
Easy to install; no tools required
It can fit any standard shower type
The Culligan WSH-C125 Wall Mounted Shower Head Filter-Best for Handheld Showers
Another excellent handheld filter to go for is the Culligan WSH-C125 shower filter. It features a water filtration system that has five different spray settings. Moreover, these water softeners don't affect your water pressure and allow a water flow rate of 2.5 gallons per minute. Additionally, the handheld shower filter is easy to install. All you need to do is, unscrew the current shower head and then switch it with these replacement filters.
Afterward, seal the base of the showerhead with the Teflon tape included in the package. The WSH-C125 promises water efficiency, removing scale, filmy residue, and other substances that are left by heavy metals in water. It also reduces sulfur odor and chlorine up to 99 percent in water.
WSH-C125 Shower Water Filter Features
Easy installation process, with tons of Teflon tape for multiple installations (you can easily install them between the current showerhead and shower arm, which connects to the main plumbing of your home).
It meets the ESP water sense certification, ensuring the flow rate is 2.5 gallons per minute
Comes with a patent WSR 140 filter cartridge
Five spray settings
AquaBliss High Output Showerhead Filter-Affordable Option
The Aquabliss filtering system is an affordable water softener. It has a 12-stage filtrating system that allows you to remove scale and heavy metals, making water efficient. Moreover, these phases inject beneficial elements into your water, revitalizing your skin and hair.
The installation process is easy, but the best part about using the Aquablis SF100 is that you'll get instant relief, as the remedy is immediate. If you go for an advanced option, it'll have additional stages for your water to pass, adding water oxygen and some revitalizing minerals.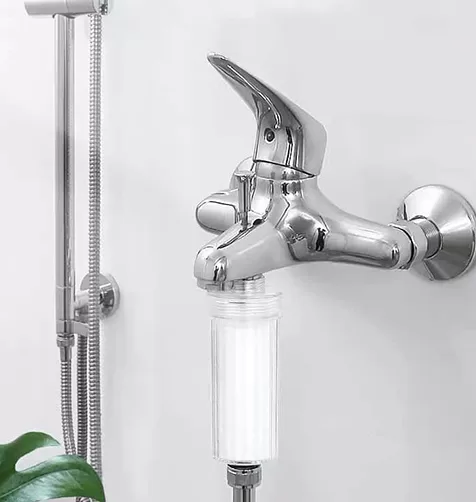 Usually, the Aquabliss acts like a filter sponge trapping huge sediments in water on stage one, then allowing the water to flow onto the next stage. There's also a particular stage in the system that has a combination of microporous PP cotton and a mesh layer that ensures the successful capture of sediments.
AquaBliss Filter Features
It has a 12-stage sediment filtering system.
Affordable; it'll cost you $0.9 a day with them on board.
The filter life is about six. months before its replacement
Its filtering system is designed to neutralize odors associated with hard water.
Comes with a sand filter at the beginning of the filtration to remove huge sediments.
Installing a shower filter can do wonders when it comes to your shower experience. If you're living in an apartment and your pockets don't allow you to have water-softening systems, investing in a shower filter would be excellent. They're economical and would easily improve water efficiency.
Be sure to look at the city water to determine what is in your water. This will help you zero down on the type of shower filter you need. The guide above should give you a kickstart to the direction you wish to take.