Care and Maintain Your Bathroom & Kitchen Faucets
Add a header to begin generating the table of contents
After installing sparkling kitchen and bathroom faucets, you'll need a perfect game plan to optimize their longevity to continue adding value to your home for years to come. Usually, most homeowners forget about faucets until a problem occurs. In a high-traffic home, faucets can quickly have common issues, including water spots, mineral deposits, scratches, chips, and general grime, whether it's for shower heads, sinks, or a tub.
It's, therefore, imperative to have a few care and maintenance tips up your sleeves to clean the bath faucets correctly to save you time and money in the long run. Generally, kitchen and bathroom faucets don't require intensive care and maintenance routines. With regular cleaning and maintenance, the kitchen and bathroom faucets will continue to give you reliable service for a long time, especially if you've recently had a home improvement service. Let's look at five easy ways to clean and maintain your faucet without further ado.
· Look at the Manufacturer's Manual for Proper Chrome Faucets Care
It's important to look at the manufacturer's manual to determine the best cleaning technique before jumping on any faucet cleaning bandwagon. Different types of faucets are made from different finishes, including polished nickel, brass, chrome, as well as stainless steel. You, therefore, need to use a particular cleaning technique for a particular faucet finish.
The manual will highlight the cleaning products and routine for your specific faucets. If you can't find the manual, you can check the manufacturer's mark on the faucet. Moreover, these manufacturers, like Delta Faucet Company, have a free toll phone number, mobile app, and also online instructional care service for their users.
Notably, when you use corrosive or caustic agents like steel wool, abrasive cleaners, or scrub brushes on most faucets, it'll cause scratching on the finish, voiding your warranty. Faucets with oiled rubbed finishes are cleaned with water to help the living finish design inspiration develop into a patina. Once you get an idea of the technique to use, you'll then go to the next step of regular cleaning.
· Daily Cleaning with Mild Cleaners
As stated earlier, cleaning chrome faucets don't require an intense regime. Simple dish soap and water can easily do the trick. Incorporating favorite mild cleaners like baking soda, lemon juice, or white vinegar to remove water spots and stubborn stains would suffice. Be sure to test out the lemon and vinegar before using them to evade discoloring your finish. Here's a step-by-step guide to cleaning your faucet.
· Tools and Supplies Required:
Soft cloth- (one damp cloth, plus another dry one)
White vinegar
Dish Soap
Warm water
Old toothbrush
Non-abrasive cleaners
First, you'll wash the faucet with dish soap and water to remove water-marks and staining. Once done, buff the shower head faucet with a soft dry cloth to maintain its shine. The process will also prevent spotting on the faucet finish.
Step 2: Clean Bath Faucets with White Vinegar to Remove Stubborn Stains
If the plain water and soap dish were not efficient in removing the grime and gunk on your faucet, you'll then move to the next phase. A mixture of white vinegar and water, when applied to the faucet surface with a soft cloth or cotton ball, can quickly remove water spots and other stains. It's highly recommended that you test the vinegar before applying it to your specific faucet to prevent discoloring or damage.
Step 3: Cleaning the Shower Head Edges
Most bathroom faucets have limescale accumulated at their edges. When trying to remove such mineral deposits, you'll first clean the faucet by wiping its surface. Using the recommended cleaning products, clean the edges of the faucet. You'll then come in afterward with your old toothbrush to scrape off the buildup. Once that's done, you'll wipe the edges with a soft dry cloth.
You can also get rid of mildew, old soap, and dripped toothpaste around the outlines of the faucet handles, drain and spout with a soft toothbrush. Using a mirror, check the faucet spout; if there is a sign of debris, clean grit the spout to remove them.
Step 4: Don't Forget to Clean the Drain Area of your Sink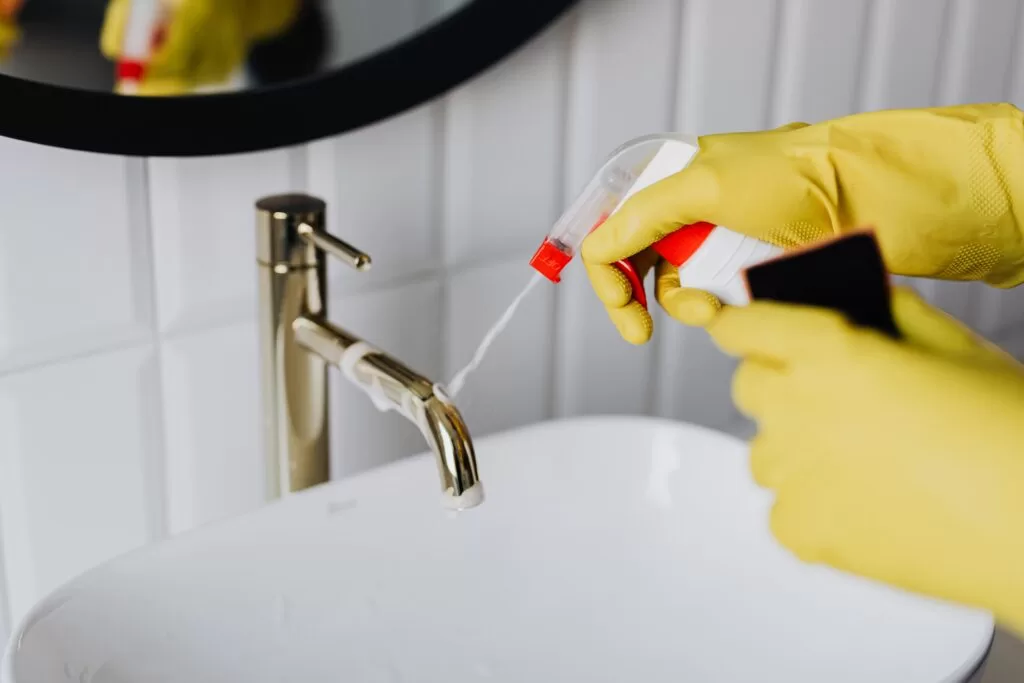 The drain area of your bathroom faucet requires maximum cleaning concentration. It's an area that leads accumulated dirt, debris, and soapy water to the sewer. Use a non-abrasive cleaner to scrub and wipe around this portion of your faucet. Before scrubbing, it's important to test out a particular cleaner in a hidden area of the sink. The process will limit damaging the polish on the sink.
· Clean the Aerator of your Bathroom Faucets for a Seamless Experience
The aerator is an important part of your faucet. It allows the smooth flow of water and air in your faucet. Therefore, the aerator is more likely to accumulate limescale buildup and debris, just like the external part of your Delta faucets. Most tap manufacturing companies recommend cleaning the aerator parts annually to have a seamless experience.
First, you'll remove the aerator parts from the faucet and flush them with water. Using a soft toothbrush, gently scrub away the accumulated debris over time. Ensure you sequentially remove the parts so that you don't have a hard time during the reassembly process.
If the stains don't come off right away, you may need additional cleaning tools. You'll first soak the aerator in white vinegar and leave it overnight. Rinse the gadgets with hot water to help get rid of the residue. Once this process is done, you can reinstall it. If cleaning the aerator is too much trouble for you, you can simply replace them with new products sold inexpensively by its manufacturing company.
· Call a Plumbing Expert for Faucet Leaks and Pressure Problems
There are various problems that would require the services of a certified plumber, especially in instances where the faucet has leaks around its handles and spout. A professional will help you determine the root cause of the problem by outlining some of the common factors that contribute to such leaks, including;
Cracked fixtures
Loose fittings
Degraded washer
Clogged cartridges
A faucet plumber has the right tools to decipher the problem quickly. Moreover, these experts have an inventory of faucet parts for almost all models. The experts also have the right equipment and use advanced technology to fix faucet fixtures and fitting problems.
Additionally, the plumber will definitely be of assistance when your faucet is spewing, spitting, or conveying water at low pressure. Usually, the problem can be one of the following at the end of your faucet spout.
Sediment Buildup
Mildew and mold clog
Foreign objects
Corrosion
Aerator clog
A lot of faucet models like Delta Faucets put the aerator at the end of the spout to minimize water usage; however, these gadgets are prone to clogging over time. This means they need to be cleaned with a specific mild cleaner to remove dirt to make them durable. A plumber can replace a grimy gadget, install a brand new one, and ensure that the flow of water has the correct pressure.
· Understand the Warranty of your Faucet's Brand
While delving into the care and maintenance of faucets, most homeowners focus on the mechanical side of things and fail to address the warranties associated with their faucets required for home improvement. You can get a limited or life-long warranty, depending on the brand you pick. When you know and understand the type of coverage you have, it can help you in saving money.
You can evade instances of using your money for replacement services while the company can still cover it. This applies to other things like defective finishes or rust. It helps you to brace yourself when you have issues with your installed faucets.
Another cleaning solution you can use while conducting your care and maintenance routine is using a glass and surface cleaner to clean the faucet. Moreover, when you want your faucet to maintain a durable shine and gleam, dab baby oil on a cotton ball and polish your faucet with it. It'll leave the tap to speak and span, enough to see your reflection smiling back at you.
Following the tips above to the latter will optimize the beauty, and longevity of your Delta faucet, regardless of the finish it has. You really don't need fancy cleaning equipment or technology to maintain and clean your faucets. These routine tips will work magic as if they were done by a professional. Why not try these easy-peasy care tips today?
For more knowledge about The maintenance of kitchen & bathroom faucets, visit InFaucets.