Faucet Handle Covers for Babies | Faucet Extender for Toddlers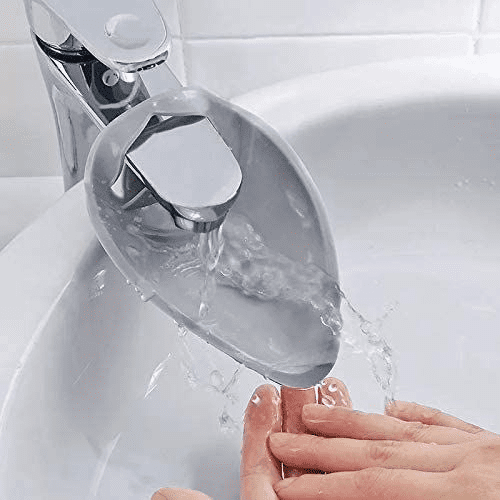 Children love playing with water. If left unattended near a kitchen or bathroom faucet within reach, they'll be tempted to turn them. Therefore, you must install faucet handle covers for babies to prevent your kids from playing with water without your consent.
Moreover, it'll limit any chances of your bathroom flooding. There are various ways you can go about childproofing your bathroom faucets. Some will prevent the toddlers from turning the faucet handle, while others will limit water source access completely.
In this article, we explain the importance of installing faucet extenders and handle covers in your bathroom-not to mention our Amazon favorites.
Without further ado, let's delve in!
Add a header to begin generating the table of contents
Is Bathtub Faucet Baby Proofing Necessary?
The bathtub has the perfect height for a curious toddler to reach. The baby wouldn't take minutes to go into the tub and turn on the faucet. Therefore, a safety faucet cover is essential as it protects the baby from burns and scalds, a common injury among toddlers. Here are some definitive reasons why such covers should be installed.
Accidental Flooding: Toddlers love playing with water, and it takes one minute of no supervision to find your baby at the bathtub turning on the water. This can cause flooding around your home when not stopped in time. Therefore, installing a preventive faucet extender or cover will ensure accidental floods or drowning are put at bay.

Burns and Scalding: When your baby tries to turn on a two-handle faucet, they can get scalded. You may need to learn how to reduce the water heater temperature to prevent this. Usually, your water heater temperature stands at 140 degrees; keeping it at 120 degrees will prevent scalding and burns from kids when they turn on the hot water handle.
Let's now look at faucet extenders for toddlers.
What Are Faucet Extenders
A faucet extender is a device designed to help toddlers to wash their hands and brush their teeth. Faucet extenders ultimately work with any faucet type to help the little baby's hand reach the water. You can say goodbye to your baby standing on a tippy toe position and back struggles with a faucet extender on board.
They're basically curated to bring water flow closer. They consist of a rubber that fits in on the faucet plus a plastic spout that slides into the rubber. Faucet extenders have definitely changed as far as baby independence is concerned. You can fit it in just any of your faucets around the house.
Benefits of Installing a Faucet Extender for Kids
With many styles and designs, a faucet extender is your next bet to revalorize your kids' independence. At some point, your toddlers would want to do everything independently, whether brushing their teeth or washing their hands. This exciting moment can suddenly become frustrating for moms when their kids can't reach the sink.
You'll then have to keep bending over to ensure they reach the sink, which can cause back problems. However, with the newest revolution in town- the faucet extender, you can say goodbye to all these struggles.
Here's what a faucet extender can do for you and your kids.
Conserve water: Installing a faucet extender helps you reduce water splash and save water by ensuring kids reach the water.

No straining or back problems: With faucet extenders, you'll not have to lean over to enable your kids to reach the sink.
Now that you know what faucet extenders and faucet handle covers are. Let's look at some of our top picks in 2023.
Six Best Faucet Extenders and Handle Covers in 2023
There are many extenders in the market with various styles and designs. Fortunately, we've picked the top favorites in terms of performers. Without no further ado, let's take a closer look.
Aqueduck Faucet Extender for Kids
The extender is a superstar since it checks all boxes, from being dishwasher safe and easy to install, BPA, PVC, and phthalate-free. They're easy to clean; you'll need to pick them apart – the rubber and the plastic slides, then put them in your dishwasher, and you're good to go.
The process easily gets rid of molds and soap buildup. Aqueduck faucet extender will fit nicely to any faucet – whether flat or round – with no worries of constantly adjusting after each use. The only time you even consider readjusting is when you reattach the faucet extender after cleaning it.
It's essential to, however, note that the Aqueduck faucet extender for kids doesn't work on the faucet bathtub. 
Fortunately, the brand has a separate faucet extender for the bathtub spout.
Aqueduck faucet extender can't fit on high arch faucets. You can opt for this next option if you have such faucets around the house.
Prince Lionheart Faucet Extender for Kids
Known for its flexibility, the Prince Lionheart Faucet Extender for kids is hands down the best extender for your standard variety taps. They're an excellent fit for faucets with a high arch or gooseneck, something other faucet extenders cannot possibly do.
Once you install the faucet extender, it will pretty much stay in position without any adjustment. It's also quite easy to clean them; you only have to pick them apart and throw the part in your dishwasher.
The only drawback about this faucet extender is the logo raised at the center of the spout. Over time, soap buildup and mineral deposits will gather in this area.
Munchkin Extend Faucet Extender 2 Pack for Baby
This is another faucet extender you can opt for in 2023. The Munchkin Extend faucet extender is a must-have for your kids who may want a little independence in washing their hands and brushing their teeth. It has a flexible design allows attaching to just any of the standard faucet in the house.
The faucet extender has an easy installation process; you'll not need any tools to install or remove the extender. The package comes with two faucet extenders. You can buy this extender from the Amazon store, and your baby would definitely love this addition.
PandaEar 3 Pack Bathroom Sink Faucet Extender for Baby
Another excellent option for your bathroom faucet is the PandaEar 3 Pack Bathroom Sink Faucet Extender. Its modern design stands out among the rest and accents any space. The polyethylene faucet extender is easy to clean and remove. Moreover, it is articulately designed to fit all conventional bathroom faucets.
The extender is created from safe plastic to ensure safety and durability. This faucet extender is made of long-lasting BPA, phthalate-free plastic, and PVC. The faucet extender promotes independence. It allows your baby to reach the water when brushing their teeth or washing their hands.
The extender is flexible. You'll not have any problems during the installation process. Moreover, it has 100% customer satisfaction. If for some reason, you're not satisfied with the extender's performance, you can refund your order on Amazon, but this rarely happens.
While trying to keep your baby from turning your faucet, you can incorporate the faucet handle restraints. This equipment will lock the handle so that a baby can't turn a faucet on when using the bathroom. The good thing about this equipment is that it is quite easy to use and install.
Adults won't have problems operating the faucet while the device is attached to the faucet. It will therefore provide the needed safety and allow adults to enjoy warm, relaxing baths.
Faucet Extender, 2 Pack Baby Bath Helper
This is another good option to help your baby become more independent while brushing and washing their hands. The faucet extender has two mounting ports to ensure it fits both the straight-set channel faucets and the gooseneck faucets. This silicon faucet extender is your next bet if you're still contemplating on introducing water into your baby's bathtub.
It can stretch and wrap around the faucet to guide water into the baby tub easily and quickly. Moreover, the faucet extender is designed to make hand-washing fun for kids, thereby promoting independence when brushing teeth and washing hands. The faucet extender is also safe and durable since it's made of soft and tough silicon.
It's also designed to have round edges to ensure safety. The kids' faucet extender is a one-piece design; therefore, you'll not have problems installing or removing it from the faucet. The extender is 100% customer satisfaction guaranteed.
You can easily get a refund from Amazon when you encounter performance struggles on rare occasions.
Can I Make My Own Faucet Extender? - DIY Extenders
You've gone window shopping from Amazon to Walmart but found no extender that meets your requirements. Well, did you know you can make one right at home? Yes, the faucet extenders for babies are quite easy to make. With the right tools, anyone can do it.
Look at this guide, DIY faucet extender from a plastic lid. If the faucets you have are chrome polished, you may want to stick with the store-bought version extenders. You can scratch and mark the faucet while trying to install your DIY extender, which can damage the faucet.
Fixing faucet damage is far more expensive than just buying a faucet extender.
DIY Sink Faucet Handle Restraints
You can also make DIY sink faucet handle restraints since some sinks have two handles while others have one lever pulled up straight. When you look around the house, you can certainly find something to lock your faucet handle to ensure the baby cannot turn it on. Here are some items you can lock your faucet handle with.
Rubber bands and hair ties are excellent items that can hold the faucet handle in place. These items are strong enough to keep your baby from pulling and turning the faucet handle.

For a lever faucet, you can go ahead and tie a rope on it to keep the baby from pulling it upwards.

If you have sink knobs, you can use knob covers to deter the baby from getting to the bathtub handles.